Both physiotherapists and personal trainers work to build up the strength and fitness of their patients and clients. However, physiotherapists and personal trainers have differences in terms of education, area of practice, and overall health care focus. Read on to discover whether a physiotherapist or a personal trainer is the right fit for you.
How do physiotherapists and personal trainers differ in terms of education and qualifications?
Becoming a physiotherapist in Canada requires a professional Master's degree. After obtaining this degree, a graduate becomes eligible to write the Physiotherapy Competency Examination, which is usually a requirement in order to become a registered, working physiotherapist. Moreover, like physicians, dentists and other specialists; physiotherapists are regulated health care provider in both Canada and U.S, they often work in hospitals, public and private health care clinics, long-term care facilities and schools.
Personal trainer, on the other hand, can be accomplished in a variety of ways. These range from weeks to months long courses. Also personal trainers are not currently regulated in the Canada or U.S, they usually work in the gyms, fitness centres, private rehab facilities and schools.
It therefore requires more education and specialty training in order to become a physiotherapist, they generally has a wider knowledge on body mechanics and area of practice than a personal trainer.
What is the difference in knowledge of body mechanics?
Both physiotherapists and personal trainers learn proper body mechanics. This ensures that all clients remain safe during sessions. However, because physiotherapists' extended education and experience on medical and health, they typically have a deeper knowledge of patients' medical conditions. This may include knowledge about how improper body mechanics can lead to injuries or disabilities or other concerns.
Personal trainers understand your body's ability to exercise, and carry efficient method of losing weight or building muscle tones.
What are the differences in the area of practice?
The largest difference between personal training and physiotherapy is in the scope of practice. Physiotherapists receive more in-depth medical education and training than personal trainers, therefore they have the ability to diagnose muscle, bone, and joint issues. They are then able to treat these issues using methods such as rehabilitative exercise and intramuscular stimulation.
Physiotherapists typically assess and treat individuals who have acute or chronic muscular injuries. During a session, a physiotherapist will provide a client with stretching exercises as well as strength training and muscle building exercises to target the injured area. They will then provide the client with home exercises to continue to strengthen and eventually to heal the area. A physiotherapist therefore focuses on healing injury rather than on body building and losing weight.
A personal trainer, unlike a physiotherapist, will typically see generally healthy patients rather than patients with specific injuries or medical conditions. Personal trainers are therefore usually focused more on body building and aesthetics. Personal trainerss will create specific workouts routines to do at your fitness centre in order to target the areas that you want to tone and strengthen.
Physiotherapist and personal trainer can work closely together.
If clients have workout injuries at gym, they will typically be referred to a physiotherapist. on the other hand, clients who are interested in body building or loss weight in order to improve their lifestyle and general health will often be referred to a personal trainer.
Personal trainers often provide stretching exercises, fitness exercises, strength training, and muscle building exercises to clients, similar to physiotherapists. Personal trainers may or may not provide home exercises to clients. The difference, then, is in the reason for providing this fitness training.
Physiotherapy goes beyond simple fitness exercises in order to look stronger or slimmer. Physiotherapy can aid chronic health conditions, such as diabetes or stroke prevention, they may also refer the patients to see a personal trainer with specific workouts routines for certain medical conditions.
Why should you see a physiotherapist?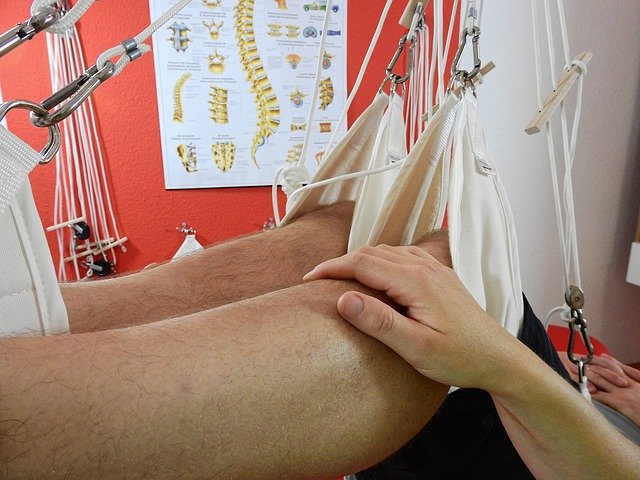 Physiotherapy is a safe and effective way to treat injury, impairment, body mechanic limitation, disability, acute and chronic pain. Especially pain is controlled using fitness training rather than using opioids, which can lead to addiction and serious side effects.
Physiotherapists are qualified and knowledgeable of proper body mechanics. Therefore, they can diagnose and assess your muscle, bone, and joint concerns to get to the cause of your pain. They can tailor exercises to your specific chronic health issues or injuries in order to heal you in a holistic manner. Physiotherapists are also qualified to use advanced treatment techniques such as ultrasound and intramuscular stimulation, cold laser and shockwave therapy which you could not receive at a fitness centre. They can even help to heal neurological problems, issues associated with diabetes, and simply improve your general health.
If you have chronic health issues or pain, rather than attempting to aid your ailments without guidance at your local fitness centre, visit a physiotherapist in Milton and Pickering, Ontario at Pro Fusion Rehab. These experienced medical professionals will create a plan to help rid you of your pain and chronic symptoms. For more information on Pro Fusion Rehab and rehabilitation services provided by physiotherapists, visit profusionrehab.com. Begin your healing process today.
Differences Between Personal Trainers and Physiotherapists