What is direct billing?
After your wonderful physiotherapy or massage therapy session, usually you would be expecting to pay upfront and obtain receipts so that can be submitted to insurance company along with doctor's prescription and claim form. Sounds like a pain again? With Direct Billing service, you can leave all the hassles to the clinic. Our experienced administrative staff will walk you through the whole process of direct billing; from registering online account to getting reimbursement from insurance company.
Currently in province of Ontario, both patients and health providers are dealing with 3 most common health benefit categories: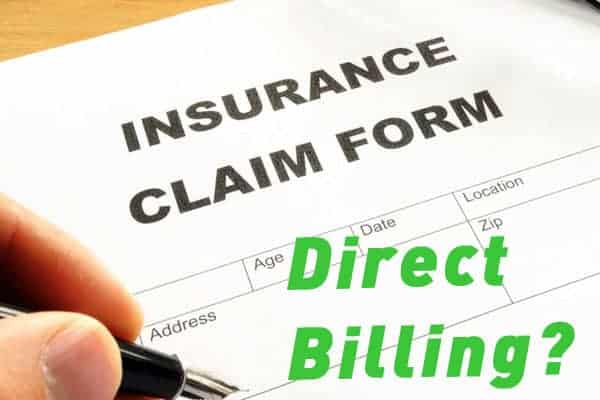 Motor Vehicle Accident Benefit from Auto Insurance
According to Financial Services Commission of Ontario, the mandatory auto insurance you purchased contains statutory accident benefits, which
provides you with benefits if you are injured in an automobile accident, regardless of who caused the accident, including supplementary medical, rehabilitation and attendant care, caregiver, non-earner and income replacement benefits. Options exist to increase most of these coverages.
If you were unfortunately injured in car accident, we will help you to go through the necessary paperwork from insurance company, and with your written consent we will bill auto insurance directly and you can focus on getting better.
Workplace Injury Covered by WSIB
The Workplace Safety and Insurance Board is an independent agency of the Ministry of Labour in Ontario, If you are covered by WSIB
the benefits pay for a number of costs related to workplace injury and illness, including: Health care; Prescription drugs; Medical devices and orthotics; Transportation costs associated with work-related injury or illness. In most cases, we pay the health care provider directly. Your case manager, together with your nurse consultant, will advise you on how to claim for these benefits and how each benefit is paid.
After reporting your workplace injury to your employer and WSIB, you should seek for medical attention as soon as possible. Again, at Pro Fusion Rehab, we will send your rehabilitation bill to WSIB directly and you can recover and go back to work faster.
Extended Health Benefits
Most of group health benefits will cover paramedical services such as physiotherapy, massage therapy, acupuncture, chiropractic etc, and thanks to healthcare information technology nowadays that will allow both patients and health practitioners to access benefit schedule, medical records and billing statements on the cloud. The industry leader TELUS developed direct billing solution named TELUS Health eClaims, which enables many advantages over traditional paper billing:
Increase patient satisfaction due to fewer out-of-pocket expenses and less hassle. 2. Reduce credit card fees as you only charge clients for their deductible. 3. Greater capacity for reporting than with traditional methods. 4. Increase payment efficiency through daily updates from the provider database. 5. Free service
Additionally, more and more insurance companies are enrolled with eClaims, which means for the eligible insurance policy we can bill your insurance directly as soon as you finished the treatment.
The insurance companies that are currently enrolled with Telus Health eClaims:
Chambers of Commerce Group Insurance Plan
Cowan
Desjardins Insurance
The Great West Life Assurance Company
Industrial Alliance Financial Group
Johnson
Johnston Group
Manulife
Maximum Benefit
Standard Life
Sun Life Financial
At Pro Fusion Rehab, we are trying to help our patients as much as we can. So besides all the insurance companies listed above, we are registered under the independent direct billing system from the following insurance companies.
Greenshield Canada
Medavie Blue Cross
SSQ Financial Group
The Equitable Life
The Co-operators
NexgenRx
To make sure your policy is eligible to have direct billing, please contact our administrative staff, and we are more than happy to assist you.