Introducting Lymphedema therapy
The goal of lymphedema therapy is to restore function, reduce physical and psychologic suffering, and prevent the development of infection.
Lymphedema Management is conducted in two phases:
Phase1: the Intensive Phase is focused on reducing the swelling as much as possible, and to start to break down any fibrosis which may have developed.
Phase2: the Maintenance Phase is focused on the improvement and upkeep of the Intensive Phase of treatment through: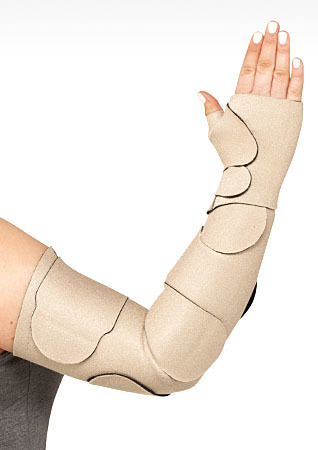 Manual Lymphatic Drainage (MLD) a specific gentle massage that stimulates lymph flow and re-directs the lymph fluid to areas of the body where the lymphatic system is functioning. Special techniques help to break down fibrous tissue.
Multi-layer compression bandaging : the application of stretch bandages(wrapping) or layers of gauze, foam and low stretch bandages to replace skin pressure lost from lymphedema. To enhance the effect of muscular activity in draining the lymph from the affected limb. These compression bandages also helps to soften fibrosis. They can be worn during sleep. Compression is applied by trained therapist but patients can be taught to bandage themselves. Elastic Support Garments/Sleeves can be provided to patient once effective limb size has been achieved.
Range of Motion Exercises/Decompression exercises specifically designed light exercises to aid more in lymph resorption.
Patient Education on skin care management, prevention of infections, self MLD, home exercises, self-bandaging and maintenance of the limb size.
At Pro Fusion Rehab we have qualified physiotherapist with certificate of practicing Manual Lymphatic Drainage to treat patient with lymphedema.