Frozen shoulder, also referred to as adhesive capsulitis, is a painful condition which causes stiffness and a limited range of motion in the shoulder. Shoulder pain from this condition can be caused by an injury due to overuse of the shoulder muscles. Frozen shoulder can also be a result of medical conditions such as diabetes or a stroke. With this condition, tissue around the shoulder stiffens and forms scar tissue. This scar tissue builds up over time leading to a limited range of motion and a painful shoulder. Frozen shoulder can develop when you stop using the joint because of pain, injury or a medical condition. Frozen shoulder has a slow onset and can take a year or longer to improve. You are at risk of developing shoulder pain from this condition if you:
have had an injury or surgery
are between the ages of 40 and 70
are a postmenopausal woman
suffer from chronic illnesses
Diagnosis of frozen shoulder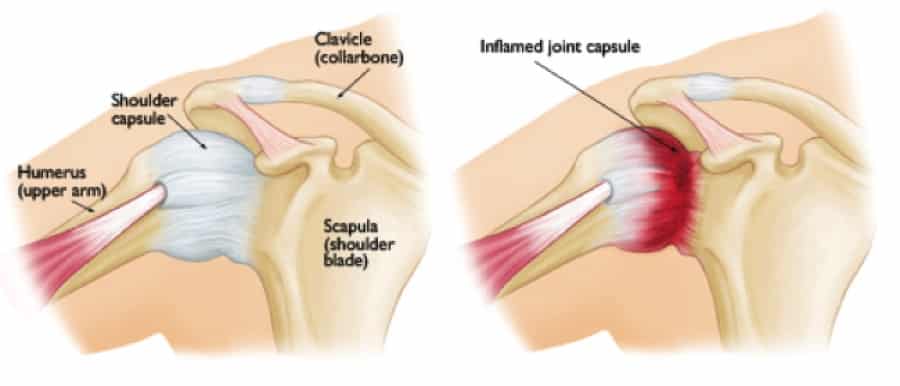 If you're experiencing shoulder pain, your doctor may do a physical exam and see that your range of motion is limited at which time he may order an x-ray to determine if you have a broken bone, arthritis or frozen shoulder. If he determines you do, in fact, have frozen shoulder, your next step will be treatment.
Treatment of frozen shoulder
Your doctor may give you a prescription for painkillers or you may be advised to take over-the-counter pain medications. Gentle shoulder pain exercises, as well as applying heat to the affected area, can provide relief. Cold compresses may also be used to reduce swelling and inflammation. For more information on frozen shoulder, please check our another post here.
Surgery can also be performed to correct the problem. Many people do not like the thought of surgery because it is invasive and recovery usually takes quite a while. Complications during and after surgery can also occur which can be worrisome. However, there may be a better, less invasive way to treat this condition. It is referred to as extracorporeal shockwave therapy. Shockwave therapy delivers Shoulder Pain Relief quickly and results in restored mobility. It is a multidisciplinary device used in several areas of medicine including orthopaedics, physiotherapy, sports medicine, urology and veterinary medicine.
Why should you try Shockwave Therapy for frozen shoulder
The advantage of this treatment is that with it you can Relieve Shoulder Pain quickly without the need for invasive surgery and pain medications. Shockwaves are acoustic waves which carry high energy to the painful shoulder. This energy promotes regeneration and repair of the soft tissues surrounding the afflicted shoulder. This, along with shoulder pain exercises, results in increased mobility and Shoulder Pain Relief. After this treatment you will be able to return to daily activities quickly and your quality of life will be maximized.
Shockwave is clinically proven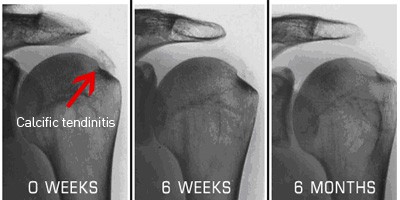 A study conducted by the Isfahan University of Medical Sciences hospitals in 2012 concluded that shockwave therapy is an effective and non-invasive treatment to Relieve Shoulder Pain. In this study, 36 participants were divided into two groups. One group (intervention group) received shockwave therapy once per week for four weeks. The other group (control group) received sham shockwave therapy once per week for four weeks. The results of this study concluded that the use of shockwave therapy provided to patients resulted in faster pain relief with less recovery time, a quicker return to normal activities with an improved quality of life.
If you are experiencing pain in your shoulder, then it may be necessary to visit your doctor to determine the cause. You do not want to let such pain go unchecked because any pain that you're experiencing along with any loss of range of motion will diminish your quality of life and ability to complete daily tasks. If it is determined you have frozen shoulder, just keep in mind the many options available to you if surgery is not something you want to explore. Shoulder Pain Relief doesn't have to involve invasive procedures or pain medications. However, it is important that you have the condition diagnosed so that you may move on to receiving treatment. Shockwave therapy is non-invasive and very effective in treating pain and will allow you to return to your normal activities quickly. Once you've received the treatment, you should continue with shoulder pain exercises to ensure you are working the muscles and soft tissue that had been affected.
Don't live with the pain and hope it will correct itself. If you think you might benefit from shockwave therapy, then you should call our physiotherapy clinic conveniently located in Milton and Pickering, Ontario or visit us at profusionrehab.com to see how we can relieve your pain and increase your quality of life.
Referrence:
BABAK VAHDATPOUR, S. M.
Efficacy of Extracorporeal Shockwave Therapy in Frozen Shoulder
In-text: (Babak Vahdatpour, 2017)
Your Bibliography: Babak Vahdatpour, S. (2017). Efficacy of Extracorporeal Shockwave Therapy in Frozen Shoulder. [online] PubMed Central (PMC). Available at: https://www.ncbi.nlm.nih.gov/pmc/articles/PMC4124565/ [Accessed 5 Oct. 2017].
Shockwave Therapy for Frozen Shoulder