With so many different types and brands of compression stockings available on the market today, how can you know which one is right for you? Stop wasting money and read this guide where we've put together tips for choosing the right compression socks for your needs.
Compression Level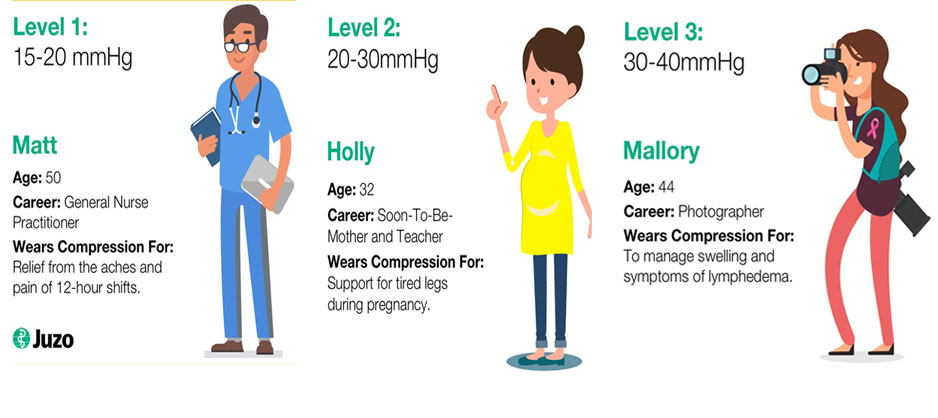 The first step is to choose your level of compression. If you were looking for something to wear daily, you should stick in the 15-20 mmHg range, which can be bought over the counter and is made for daily wear. Bump it up to 20-30mmHg if you need to wear something daily and are experiencing mild symptoms. Lastly, choose compression stockings with 30-40 mmHg for managing mild to severe symptoms and for medical recovery and daily wear.
Knee High, Thigh High or Pantyhose
The next step would be to choose the length of sock you need to wear. Knee-high compression stockings stop just below your knee. Thigh highs are also available and reach the top of the thigh, just below the buttock. These are made to cover your entire thigh because they are intended to improve circulation throughout your whole leg. Pantyhose, waist-high, and maternity pantyhose are also available. To know which one you should pick, ask yourself what area is affected on your legs; if you only have symptoms in your ankle, your best bet will be to go with knee-highs, as they will be sufficient. If you have symptoms above the knee, go for thigh highs or pantyhose.
Style and Material
After deciding that, it's time to move on to choosing the style or material of your compression socks. They are available in opaque leggings or dress socks. Opaque compression socks are more durable than other types of materials and are the "middle of the road" option. Sheer materials are also available in lightweight and fashionable styles. These are less durable and provide a lower amount of compression. Another type of compression sock available is used for running or other sports and can help control heat and moisture. These are typically made with a high-tech blend of cotton or wool materials. It's important to note that this type of compression sock is only available with a lower level of compression, and if you require any higher, you should go for an opaque compression sock.
If you still are unsure what type of compression socks to get, no worries! Please consult one of our expert physiotherapists about the correct compression levels and style you need for your health concerns today. Drop by our physiotherapy clinic in Pickering or Milton, we will be more than happy to assist you.
How To Choose the Right Compression Stockings