10 Tips for Raking Leaves Pain Free
During the fall season, there are heaps of dead leaves shed from trees and other plants on the backyards or field. The leaves create a mess that calls for yard work. Raking leaves is one of the major ways to create a beautiful and clean environment. However, raking of leaves can leave you with sore shoulders, lower backaches, twisted knees, strained muscles, and other pains associated with poor raking skills. As such, raking safety tips are essential for anyone looking to rake leaves. We have compiled some of the most reliable tips for raking leaves pain free.
1. Warm up with practice & stretching
It is important that you undertake a warm up practice like brisk walking and stretching to ensure that your muscles are in good shape for the raking activity. Although there is no scientific evidence that supports this, it has proven reliable as it helps prevent muscle strains when raking leaves. Warm up and stretching is most effective if done for about 5 to 10 minutes.
2. Keep good posture
Maintaining a good posture when raking helps prevent muscle strains and pain from awkward positions. The best way to do this bend your legs and keep your weight centered thus allowing you to reach the leaves with your arms and not the whole body. For every 20 minutes spent while raking, consider standing up, placing your arms on the hips and stretching while bending your back about 3 to 5 times for a few seconds. This will stretch the muscles and prepare you to lift something if you have to. You can find more information on correcting postures by visiting this post.
3. Bend knee not back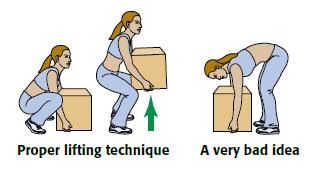 After raking, you will want the leaf pick up process to be done with your knees and hips bent rather than your back. The legs and your bottom are the source of the lifting energy thus will prevent lower back pains. During the leaf removal stage, consider moving smaller piles to prevent back strain.
4. Switch positions and hands, avoid overuse
When you maintain the same posture and use the same lead hand for long, you increase the exhaustion on your muscles. This is why you should switch your body positions and the lead hand that would result into overuse due to the repetitive motions. The overuse will in turn cause muscle strains on one arm or certain body parts that end up being painful.
5. Take a break
Avoid pushing yourself too hard as it causes muscle strains especially since you may maintain poor body postures. Taking frequent breaks will not only make your work easier but will also allow you time to rejuvenate your body's energy to avoid back strains after leaf clean up. Leaf pick up is also made easier and less tedious if you take breaks.
6. Staying hydrated
Muscles rely on plenty of body water for them to function appropriately and allow you to conduct the activities you need with ease. Ensure that when raking, you stay hydrated by drinking high levels of water to allow the proper coordination of your body parts.
7. Use proper tool
For instance, when it comes to choosing a rake, you should consider your body size for the proper rake length and width. Wide rakes will gather more leaves during leaf clean up that may cause your back to strain while too narrow rakes will gather fewer leaves but increase the leaf removal work; or better yet, invest in a leaf blower.
8. Wear proper shoes
Raking leaves sometimes can be a demanding task that requires you to stay on your feet for long hours. As a result, there is the need to acquire the best pair of shoes that provides the right arch support for your feet type and prevent any cases of back pain. These shoes should also be designed as skid-resistant so that you do not fall off as you move on the slippery leaves.
9. Consider having back belt/brace
Wearing back-belts or braces is a good way to help prevent excessive movement of your back muscles that would cause lower back pains when raking. They also enable you to maintain the right posture during your yard work.
10. Wearing gloves
Your hands are the most useful body part during the raking activity and it is important that you consider wearing gloves to protect them against blisters or any other form of injury.
What to do should you incur any injuries while raking leaves
While the above tips are effective at ensuring injury prevention with better raking skills, you may find yourself injured. Should this happen, be sure to contact our physiotherapist at Pro Fusion Rehab for physiotherapy treatment. This is one of the safest and most effective alternative to treat and help prevent further injuries without using drugs or surgeries.
Our highly skilled and accredited therapists will assess and treat your physical injuries in case of strained muscles, backaches, and other forms of pain that may occur when raking. We will also help you exercise to get your healthy body back in the healthiest way possible for your wellness matters.
We also treat various other conditions associated with chronic pain. Call our Pickering or Milton physiotherapy clinic today and enjoy our outstanding services!
10 Tips for Raking Leaves Pain Free